Cuisinart SM-70 7 Quart Stand Mixer Review
Friday, July 8th, 2011 at 8:29 pm
**This post may contain affiliate links for products I recommend. If you click a link and buy something I may receive some compensation. This does not change the price you would pay.**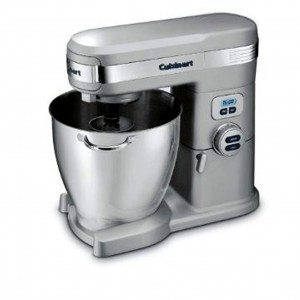 It looks like it came straight from the future, but is the Cuisinart SM 70 7 Quart stand mixer just fooling us? It looks so cool but not everyone is in love with it how it performs.
With its all-around functions, more power and capacity, it should be everything your kitchen would ever need.
Although this product may not hold a perfect star rating, it is satisfactory enough to be considered a possibility based on its power and size. Just make sure you understand it's faults, too.
Read the rest of the Cuisinart SM-70 Stand Mixer review:

Table of Contents
(click a title to jump ahead!)
1. Features
2. Stand Mixer Head Type
3. Wattage
4. Mixing Speeds
5. Bowl Size & Capacity
6. Included Attachments
7. Dimensions
8. Available Colors
9. Optional Accessory Attachments
10. Consumer Reviews
11. Pros and Cons
12. Price
Cuisinart SM-70 Stand Mixer Features
(Back to Top)
Cuisinart SM-70 7-Quart Stand Mixers is more than your typical mixer that can address all your recipe needs. Alongside with its durable die-cast metal housing, this powerful and innovative kitchen tool also possesses special features which include:
A 1000-watt stand mixer built in a durable die-cast metal
Comes with 12 speeds, from a slow-start to a gentle-fold function for a more customized use
Comes with a deep 7-quart stainless-steel bowl for a greater mixing capacity
A 15-minute countdown timer that comes with an auto shutoff in a tilt-back head type
It also includes a flat mixing paddle, chef's whisk, dough hook and a splashguard
Covers a 3-year warranty with a 5-year motor warranty
Stand Mixer Head Type
(Back to Top)
Cuisinart SM-70 7-Quart Stand Mixer is stand mixer type with a tilt-back head that provides an easy access for a more convenient use. Spring-loaded for a much easier use, this product also ensures thorough bowl coverage.
Wattage
(Back to Top)
This large unit is a 1000-watt powered tool specifically designed to handle the heaviest mixing tasks. With an immense amount power on hand, whipping, mixing and kneading jobs can be accomplished in a breeze. And on top of this, as one of the newest innovations in the market, this product surely surpasses majority, if not all, products available today.
Cuisinart SM 70 Mixing Speeds
(Back to Top)
Cuisinart SM-70 7-Quart Stand mixer is equipped with 12 variable speed settings that can address your specific mixing needs that allow you to do every single task just right. On top of this, each speed initiates with hesitation that slowly engages to prevent splattering from happening.
Bowl Size & Capacity
(Back to Top)
Together with its powerful motor, its 7-quart, deep, stainless mixing bowl provides a greater capacity, accommodating about 15 cups of flour – an amount sufficient enough to make about 15 dozens of cookies or few standard loaves of bread. Its large capacity can surely come in handy when more is needed in a limited time.
[azdf]
Included attachments
(Back to Top)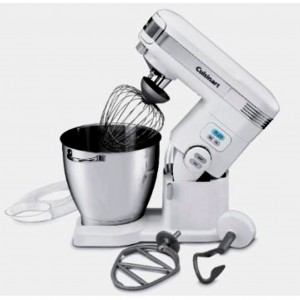 Aside from its great motor strength and bigger bowl capacity, Cuisinart SM-70 7-Quart Stand Mixer also comes with various accessories that can make mixing and whipping experiences more satisfying and convenient. Among these easily-attachable accessories would include a flat mixing paddle, a dough hook, a chef's whisk and a splashguard. As the flat mixing paddle guarantees a meticulous mixing, the whisk provides ample aeration to allow the volume of the ingredients to expand. Furthermore, with the splashguard providing an extra-wide spout for a neater assimilation of ingredients, the dough hook, on the other hand, epitomizes effective, modern kneading. Additionally, the mixer is also built with three power outlets for other discretionary attachments like blender, citrus juicer and meat grinder, which are all sold independently in the market.
Dimensions
15.5 x 11 x 14.5 inches
Weight: 26 pounds
Available Colors
(Back to Top)
Brushed chrome
Optional Accessory Attachments
(Back to Top)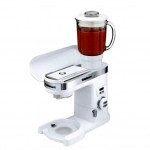 Elective attachments, which are sold separately in the market, would include citrus juicer, meat grinder, blender, pasta maker and food processor. These various accessories can be attached to the 3 extra built-in outlets of the product for a more satisfying Cuisinart experience.
Cuisinart SM-70 Stand Mixer Consumer Reviews
Consumers say it is slightly louder than other options but a general workhorse overall. Several reviewers mention that they've used it for constant baking, such as doing wedding cakes or cookies on a commercial basis out of their home and it's kept up just fine. Some of the attachments might need replacement periodically with constant use but the power is great for regular baking and cooking.
This model is often purchased as a low cost alternative to an industrial mixer and there are some trade-offs, as a result. While less expensive, there were a few reported issues with motor burnout. Those might have been under extreme circumstances and makes you wonder if this is better for thin batters than for more dense dough IF you're going to do a lot of baking on a daily basis.
You can read more here: Cuisinart SM 70 Review
Rating: 3.9
Pros and Cons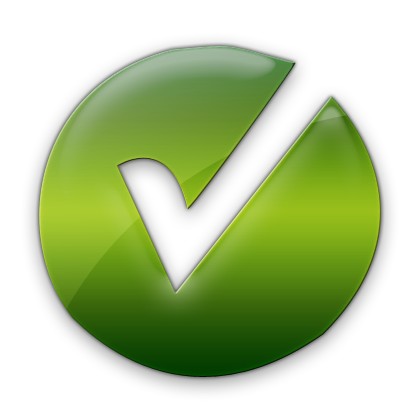 Pros: Cuisinart SM-70 7-Quart Stand Mixer is the most powerful mixer available in the market today. Alongside with its 1000-watt powered motor and large bowl capacity of 7 quarts, this innovative kitchen tool is everything your recipes should ever need. Earning an average rating just below 4 stars from a considerable number of consumers is decent. Many customers have been very satisfied with how well it works.
Aside from its great 1000-watt motor that can virtually attend to any mixing task, its durable die-cast metal structure, and its innovative digital count-down timer that allows you to the achieve a precise mixing time, it also has those 12 variable speed settings that comes with a special Fold speed that allows you to slowly stir ingredients, permit you to ensure a fantastic and satisfactory mixing job at all times. Moreover, with its tilt-back head feature, the stand mixer allows you to easily access or remove the mixing bowl without due difficulty.
Despite its huge size, as dictated by its bigger capacity for more mixing larger amounts of ingredients at a time, the product is not as heavy and noisy as expected. In fact, although it only weighs approximately 25 pounds, it can still provide you with enough stability even during arduous mixing tasks. Additionally, the added depth of the large mixing bowl contains splatters within the bowl, making now the aftercare much easier and faster. Furthermore, with its three extra outlets for dedicated attachments, the product gets transformed into a multifaceted kitchen tool.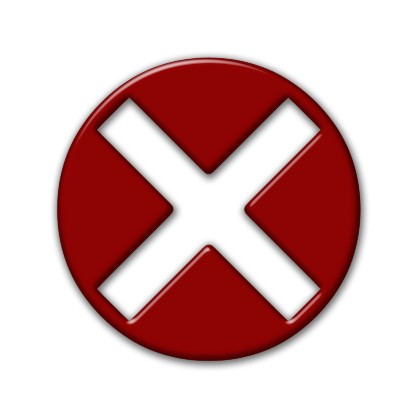 Cons: Just like most products, however, Cuisinart SM-70 7-Quart Stand Mixer may serve to be inconvenient for some customers, and one of the concerns can be attributed to the large structure of the product, consuming the extra counter space in the kitchen. Moreover, according to one disappointed client, aside from the total mess the mixer creates every time it is used, the maximum capacity of the 7-quart stainless bowl is inaccurate. Contrary to the claim that it can hold up to 15 cups of flour at a time, a first-hand experience from a buyer has proven 10 cups to be the maximum limit. Additionally, some of the other product-related complaints from unsatisfied customers would include the burning of the electronic card after a few months of use, overheating after several kneadings, loose hinges especially on a heavy mixing and poor warranty coverage.
Price
Check current pricing discounts:


Features Overview: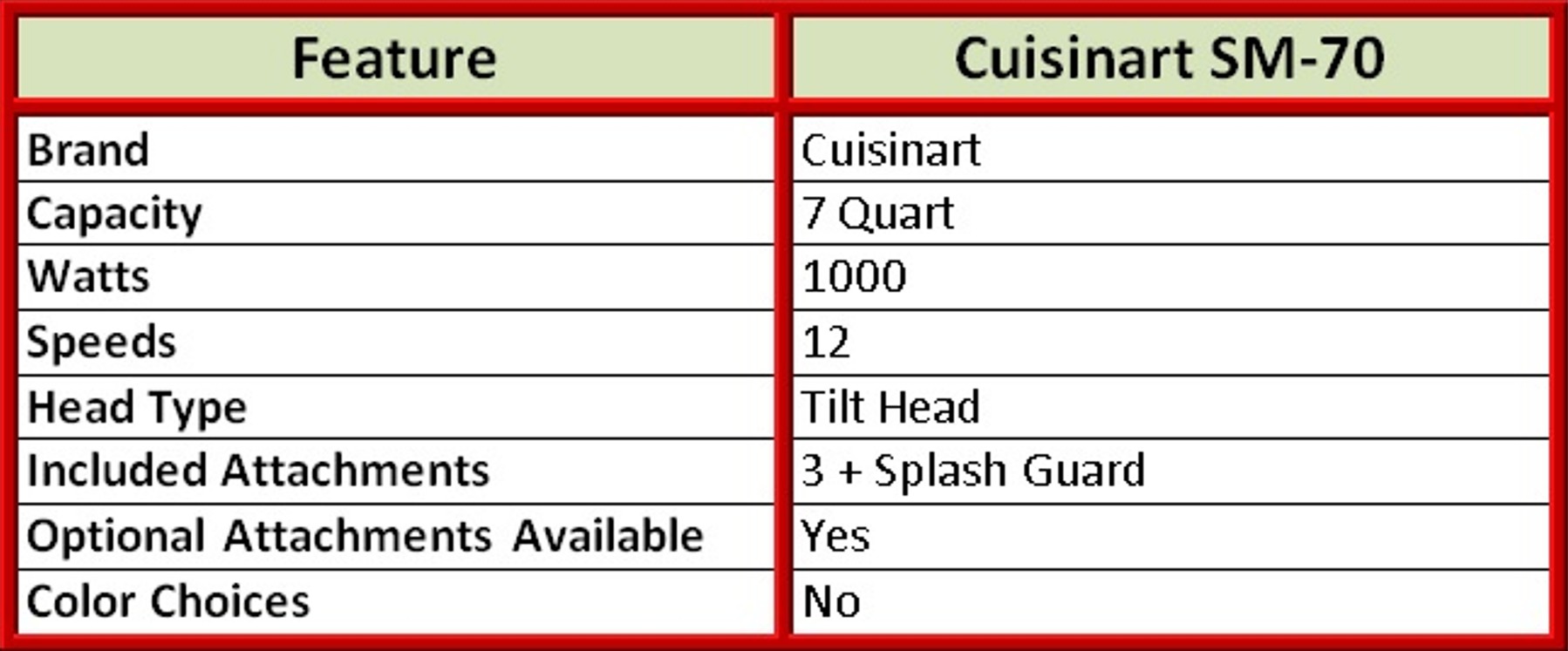 Tagged with: $300+ • cuisinart • Cuisinart sm-70 stand mixer review • mixer • review • sm 70 • stand mixer • stand mixer reviews • tilt head
Filed under: Reviews
Like this post? Subscribe to my RSS feed and get loads more!