KitchenAid Professional 600 Series Stand Mixer Review
Sunday, June 26th, 2011 at 11:23 am
**This post may contain affiliate links for products I recommend. If you click a link and buy something I may receive some compensation. This does not change the price you would pay.**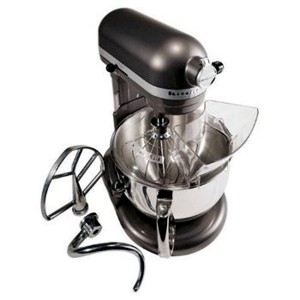 The KitchenAid Professional 600 Series 6-Quart Stand Mixer is one of the company's latest products to boast of an all stainless steel and metal part construction.
Along with a motor generating 575 watts to grant the user with plenty of power, an auto- shut- off and a soft- start system that keeps messy splatters at bay, this model earns the right to call itself Professional. The product may have its cons, but it's strong consumer rating is a good testament to its overall performance.
Read the rest of the KitchenAid Professional 600 Series review:

Table of Contents
(click a title to jump ahead!)
1. Features
2. Stand Mixer Head Type
3. Wattage
4. Mixing Speeds
5. Bowl Size & Capacity
6. Included Attachments
7. Dimensions
8. Available Colors
9. Optional Accessory Attachments
10. Consumer Reviews
11. Pros and Cons
12. Price
KitchenAid Professional 600 Series Features
(Back to Top)
KitchenAid has long been a quality maker of hand mixers and stand mixers. Even though they're the number one brand recognized and recommended by other customers, they still take the time to come up with a wide array of innovative models to meet the varying needs of the public. KitchenAid's Professional 600 Series 6-Quart Stand Mixer is one of this esteemed company's biggest selling products. It sports an enhanced set of features designed for those who need more out of their mixer than most home chefs. These additional features include:
All-metal parts with 10 available speeds
Powerful 575-watt motor that enables the machine to handle almost all types of jobs, from whisking egg whites to mixing cookie dough and heavy bread doughs
6-quart stainless-steel mixing bowl
Direct-drive transmission
Electronic speed sensor
Auto shut-off to prevent overheating
Soft Start to decrease spatter
Power knead spiral hook that duplicates the manual kneading with its punching and rolling action
Electronic Speed Sensor which aids in maintaining a steady speed
Multipurpose attachment hub to allow hassle- free attachment installation
Professional bowl- lift design
Easy to clean
Attachment Hub with Cover
Stand Mixer Head Type
(Back to Top)
KitchenAid's Professional 600 Series has a bowl lift design. This means the head does not tilt up and out of the way. Instead, the bowl moves up to meet the mixer attachments. The bowl fits into a set of side pins that hold it in place. A crank lever requires about a one-half turn to lift the bowl. Then just lower the crank to lower the bowl when you're done mixing.
Wattage
(Back to Top)
The 575 watts of power in this mixer provide for mixing, kneading, or whipping. This is more powerful than their entry level models. There are only a few models from any manufacturer that provide more power.
KitchenAid rates the strength and potential of each of their stand mixers using their exclusive Flour Power scale. That scale ranges from 8 to 14 cups and tells you how much flour it can go through in one bowl. This mixer has a rating of 14 which means it can handle any recipe of multiple of a recipe that has up to 14 cups of flour. It equates to handling enough dough for 8 loaves of bread or 13 dozen cookies AT ONCE! This level of power and capacity is more than most of their other models can handle.
Mixing Speeds
(Back to Top)
KitchenAid's Professional 600 series boasts of 10 speeds, from very slow to incredibly fast whip. The standard KitchenAid knob for speed control is used to select your desired setting. Speeds are evenly numbered from 2-10 with unnumbered notches in between each speed so you can adjust up or down in half speed increments for precision.
KitchenAid Professional 600 Series Bowl Size & Capacity
(Back to Top)
The included 6 quart bowl is made of polished, stainless steel. The size is the equivalent of 24 cups. The handle is large and contoured with rounded grooves for your fingers so you can get a nice, firm grip when you have to move the bowl or remove it from the stand.
You can get replacement bowls of the same size. You can even get a special bowl for making homemade ice cream.
Included attachments
(Back to Top)
The KitchenAid Professional 600 series mixer comes with the following accessories:
Burnished Metal Spiral Dough Hook
Wire Whip
Burnished Metal Flat Beater
Pouring Shield
The burnished metal attachments need to be hand washed.
Dimensions
Height: 11-2/7 in
Length: 16-1/2 in
Depth: 14-3/5 in
Weight: 25- 30 lbs
Available Colors
(Back to Top)
There are a total of 11 colors available for the KitchenAid Professional 600 series stand mixer: White, Empire Red, Onyx Black, Caviar, Blue Steel, Licorice, Nickel Pearl, Pearl Metallic, Copper Pearl, Caviar Gloss, and Meringue.
You can save as much as $150+ by opting for the lowest priced color which is currently the Pearl Metallic. It has a painted finish in pearlized grey.
KitchenAid Professional 600 Series Optional Accessory Attachments
(Back to Top)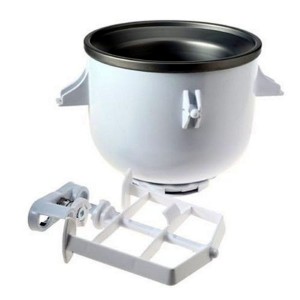 While many people buy a stand mixer to save themselves from blowing through the standard hand held mixer and to be able to make their favorite recipes more quickly, the added – sometimes misunderstood – benefit is the additional accessories that can be purchased to make the mixer even more functional.
There are a number of optional attachments one can purchase for specialty tasks:
Sausage Stuffer Kit
Roto Slicer with shredder
Ravioli Maker
Pasta Excellence Kit (includes a pasta roller and five past cutters to make a variety of pasta types such as spaghetti, fettuccini, angel hair, thick, and ravioli)
Pasta Cutter
2 Pack Mixer Bowl Cover
Wire Whip
Dough Hook Coated
Dough Hook Burnished
Flat Beater Burnished
Mixer Attachment Pack with Citrus Juicer (includes citrus juicer, food tray, food grinder, and sausage stuffer)
Ice Cream Maker
Citrus Juicer
Fruit and Vegetable Strainer Parts (attachments for the Food Grinder that strain out foods so you can make tomato sauce, baby food, or broths)
Fruit and Vegetable Strainer and Grinder
Food Tray
Mixer Attachment Pack
Food Grinder
Consumer Reviews
Users rate this mixer very high for power, looks, and durability. The additional accessory options expand functionality for serious cooks. It's powerful, good sized, and easy to use. There are a couple of things other buyers wished they'd known in advance. First, it doesn't come with a pour shield so many users buy that option because it keeps your workspace cleaner and saves time. Second, it's designed to turn off if it senses steam so mixing hot ingredients can be a problem. Just know these things going in.
Otherwise, it's one of the most purchased KitchenAids in the Professional series and not too much more than a basic model with fewer options.
You can read more here: KitchenAid Professional 600 Seires Review
Rating: 4.3
Pros and Cons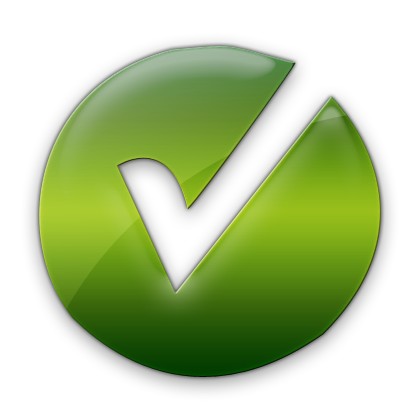 Pros: One of the market's leading manufacturers of quality mixers is KitchenAid. For the past several years, KitchenAid has provided families with consistent and wonderful performance which makes it the premier brand of mixer. As of present, they boast of several models which come in a wide array of colors with specifications unique to the buyer's needs and preference. One of KitchenAid's models is the KitchenAid Professional 600 Series 6-Quart Stand Mixer which has been receiving mostly good reviews on several internet sites.
Most customers are very much satisfied with the KitchenAid's motor, stating that it is akin to commercial performance. Its stainless steel bowl can contain up to approximately 14 cups of flour. The Soft Start feature which eases the beaters into the mixing process does keep the mess and puff of flour to a minimum.
This equipment and parts are made from steel. It is the material which KitchenAid relies on for solid, consistent performance of this quality.
Aside from the aforementioned features, KitchenAid's Professional 600 TM has been touted by most reviews as a very nice mixer comparable to KitchenAid's other models. It is also very easy to clean and one can easily assemble this machine without being bothered with too complications on assembly.
This stand mixer has plenty of great features, it can automatically shut- off when the motor gets too hot or when the workload is too much, after which you can try it again when it cools down so as to prevent any serious damage to the equipment. Some costumers, though, do not like this feature, they would prefer one which can perform the job without the trouble of waiting for the mixer to get to work when it recovers from the auto shut off. Most like KitchenAid Professional 600's spiral dough hook, the soft start, large bowl, and the additional speed settings.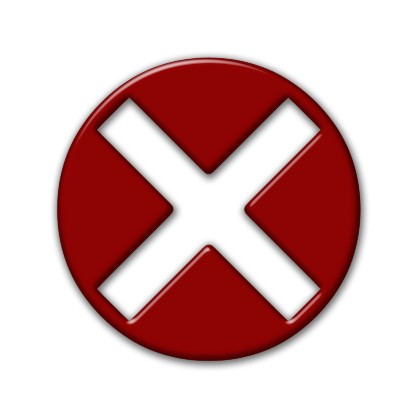 Cons: There have been complaints that some of the earlier products had plastic parts and tended to break down or be more prone to damage. This has not been the case recently and even when this did happen, it appears calls to KitchenAid's customer service department rectified the situation. So far, consumers have reported KitchenAid's superb and friendly costumer services. Cases of manufacturer errors, damages, unsatisfactory performance, KitchenAid's costumer care has been reported to be quite accommodating and efficient.
KitchenAid is also known for their innovation in terms of energy efficiency; however, it appears that other models are able to do what this mixer does at less than 575/ watts. Some costumers hold the idea that the manufacturer could also have made the steel paddle and dough hook dishwasher safe, and that the company should have made this machine more. In addition, many costumers would like to see the addition of a gearbox which can provide more power and additional variations in speed. The latter, by the way, was already addressed by the manufacturer as they have already sent out a message that their engineering team has resolved the gearbox issue and that they have extended the warranty on those with non- upgraded gear boxes in order to have the problem resolved for the client. All new models include this enhancement.
KitchenAid Professional 600 series may not have the stellar performance as the other models the manufacturer has already produced, particularly the earlier models they have made, but improvements went underway and most of the concerns have been put to rest. Still, if you are thinking of purchasing this model, make sure that you get the latest, more durable and efficient product available.
Price
(Back to Top)
The best price we've found so far is at Amazon. Not only do they have every color listed in one place, but you can compare the prices per color more easily and they almost always have a free shipping offer.
Check current pricing discounts:


Features Overview: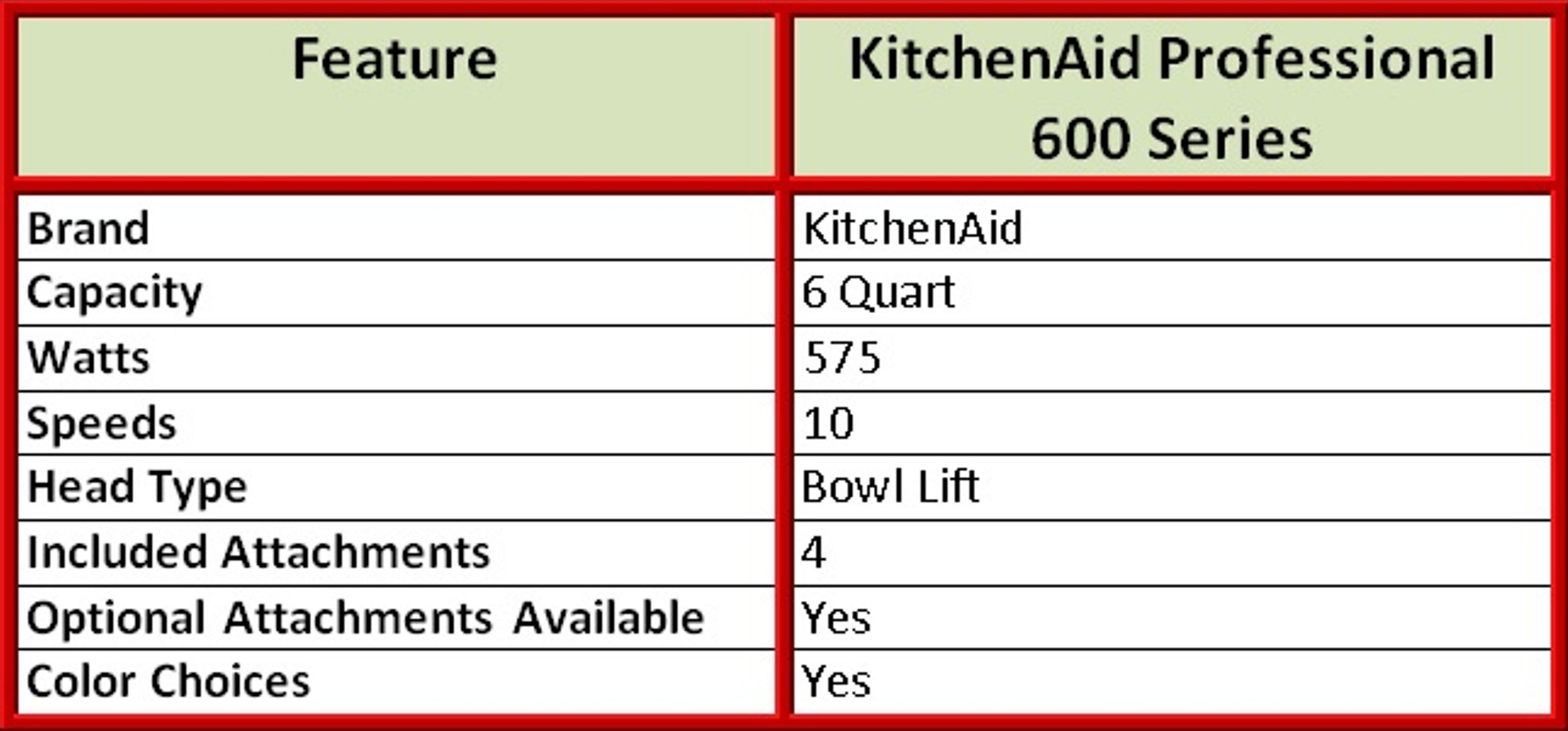 Tagged with: $300+ • bowl lift • kitchenaid • kitchenaid professional 600 series stand mixer review • mixer • professional • professional 600 • professional 600 series • review • stand mixer • stand mixer reviews
Filed under: Reviews
Like this post? Subscribe to my RSS feed and get loads more!