Monday, June 20th, 2011 at 1:20 pm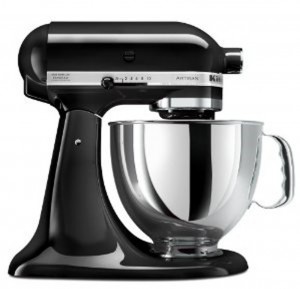 The KitchenAid Artisan 5-Quart Stand Mixer has stirred, beaten, and whipped its way into the hearts of homemakers everywhere. It has more fans than Elvis (well…close) and because it comes in a shocking array of 27 colors, there's one to match even the most unique kitchen décor.
This model has more going for it than just a pretty face, though. The powerful motor and number of attachments allow you to add more features at your own pace. The sturdy metal construction holds up extremely well. Once you put this baby on your counter, it's going to stay put for a very long time.
Read the rest of the KitchenAid Artisan Stand Mixer KSM150PSOB review: