Difference Between Stand Mixers and Hand Mixers
Sunday, June 26th, 2011 at 5:07 pm
**This post may contain affiliate links for products I recommend. If you click a link and buy something I may receive some compensation. This does not change the price you would pay.**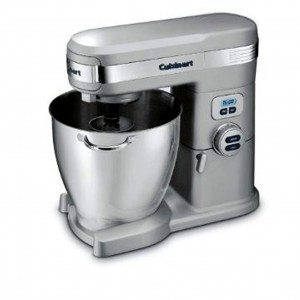 Whether you decide early on that you need one or you wait many years, almost everyone shops for a stand mixer at some point to replace the hand mixer they've been using forever. The differences between the two come down to much more than simply convenience.
Unless you're all about microwaving your meals or ordering out, you can save a lot of time having a sturdy stand mixer available. They're great for whisking, whipping, beating, mixing and kneading tasks which may prove too inconvenient or laborious for human hands. After all, no one wants to get carpal tunnel from having made too many cakes for their family birthdays or from kneading too much pizza dough. Kind of takes the fun out of the whole thing.

Mixers have become an indispensable tool in the kitchen even for the most mundane of whipping or mixing tasks. In fact, the need for a mixer goes way back to the days of a mortar and pestle. Anytime you need to combine ingredients together for your recipe, a mixer comes in handy. Hand mixers and stand mixers both automate the chore a bit by replacing elbow grease with electrical power but stand mixers take the automation to a whole new level.
Mixers are defined as kitchen equipment used to mix, whip, whisk or combine ingredients. They include a motor, frame, beaters, and an electrical cord. There are currently two types of electric mixers: Hand Mixers and Stand Mixers. Understanding the differences between the two types will help you decide which one is best for you:
Appearance and Structure – Hand mixers, based on their given name, are hand- held devices which maybe if the manual, crank- type or the more contemporary electric powered hand mixer. Stand Mixers, on the other hand, need no manual handling. Stand Mixers are already equipped with a frame which bears the weight of the machine, It has the same function as that of a hand mixer, But since the beaters are already operated on a fixed mount with the bowl secured, it can be left alone to mix or whip ingredients, leaving the person with more time to spend on doing other kitchen related tasks.
Motors – Hand held Mixers sport smaller motors than Stand mixers, the larger motor on stand mixers grant it more power than hand mixers and can effectively whip almost any type of food like cookie dough and egg whites, depending on the strength of its frame and the consistency of the ingredient.
Cost – The cost of these mixers will vary depending on the manufacturer and the quality of the equipment, however, the rule of thumb here is that the price is directly proportional to the size of the equipment. Thus, one cans safely say that Hand mixers are more affordable or cheaper than Stand Mixers. A keen consumer can purchase a hand mixer at around $15- $35 or more, but the cost usually does not go over $50. Stand Mixers, on the other hand, can be bought at around $70, but the price may climb at a steep $500! This difference in price may be because of the more extensive structure or the stand mixer, the bigger motor, and the other additional features which cannot be found on a standard hand mixer.
Size and Weight – The reason why stand mixers have rapidly gained popularity over the years is the convenience it has rendered to the users. Hand mixers, being hand- held, need to be constantly attended to when being used. The good thing about these mixers is their more compact size and lighter weight, making it easier to store and move. Also, if you are an obsessive compulsive cook, you can effectively monitor the contents of the bowl you're mixing. Stand Mixers are much bulkier and heavier than their hand- held counterparts. This difference in size is largely due to the bigger motors stand mixers operate and to render the machine stable during use.
Performance and Efficiency – Stand mixers definitely have an advantage over hand mixers on this one hands down. A standard stand mixer boasts of more speeds than a hand mixer and grants its user more time to attend to other kitchen related work like checking the cake in the oven, dicing and splicing, and the like. Hand- mixers, requiring the user to use their hands in utilizing such machine, will need to personally attend to it. Also, Hand mixers have smaller motors, giving approximately 3 types or speeds when stand mixers can give up to 15.
In purchasing a mixer, it is best to initially deliberate on the kind of work you will require from such kitchen equipment. If you are a professional cook or baker or one who has a strong passion for the kitchen, you will need a mixer with better performance and more convenience, to cut it short, you will need a stand mixer. However, if you are the type of kitchen novice that does not require much use of a mixer and can take your time in the kitchen, then an ordinary hand mixer will do.
Nowadays, however, there is an undeniable trend in the public's preference over stand mixers because of the present fast- paced lifestyle. Why bother to do it slow when you have other things to do and mixing and whipping can be done by this nifty little machine? It is true that these machines can be more expensive than the hand- held type, but the advantages of having a stand mixer way outweighs the disadvantages. Stand Mixers are stronger, more powerful, and convenient than Hand Mixers, these three reasons alone motivates people to buy this equipment. There are plenty of stand mixers being sold in the market today to address the public's need for better and more economical machines. So far, some of the best- selling types are, in no particular order, as follows:
The above names are simply some of the wide array of brands one can check out for them to correctly purchase the best kind of mixer one would want on their countertop. These brands even have a vast array of models which boast of different machine specifications, sizes, model appearance and colour, and features. For an interested consumer, be wise in selecting your equipment and take the time to read over available and reliable customer reviews, brochures and materials. Listening to first hand advice will also help you in selecting that perfect mixer.
Tagged with: cuisanart • differences • hamilton beach • hand mixers • kitchenaid • stand mixer reviews • stand mixers
Filed under: Buying Tips
Like this post? Subscribe to my RSS feed and get loads more!